Easy Rotator 1.0.0
A more advanced ship rotating utility than the Stellar Frontier one. It's features are :
Accept JPEG, PNG, TGA, PCX and BMP files as input

Output the result to PNG, TGA, PCX and BMP.

Background color auto detection for filling the spaces left by the rotation. Of course you can still set a color of your choice.

Remembers your settings for directory, frame number and save options.

Like the SF util, you can also set the number of frames for your animations.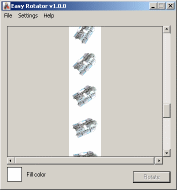 The future
Expect a pear library editor and a map editor when I'm done with hacking the file format.